Pancake Day is just around the corner that means Christmas has come early for all sweet tooth lovers. Whether you like the classic crepe, fluffy American or fancy trying something a little different this year.
Here's x3 of our top pancake recipes in preparation for Shrove Tuesday.
---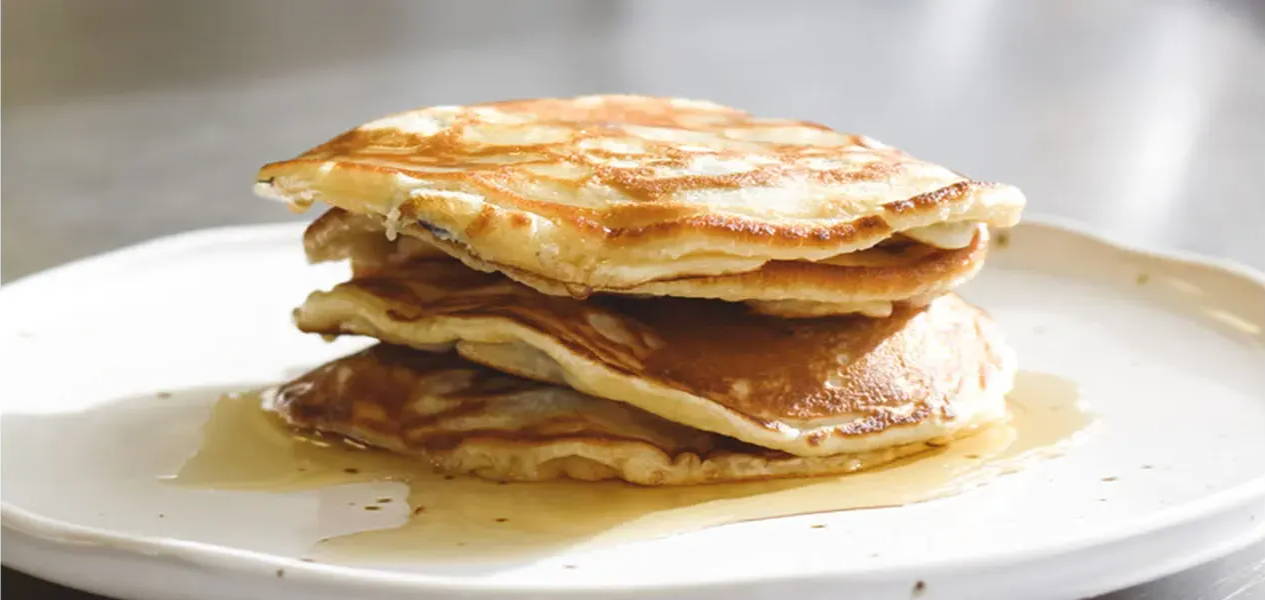 You can't go wrong with a classic.
Ingredients
200g self-raising flour
½ tsp baking powder
1 tbsp golden caster sugar
3 large eggs
25g melted butter, plus extra for cooking
200ml milk
vegetable oil, for cooking
Method
Mix 200g self-raising flour, 1 ½ tsp baking powder, 1 tbsp golden caster sugar and a pinch of salt together in a large bowl.
Create a well in the centre with the back of your spoon then add 3 large eggs, 25g melted butter and 200ml milk.
Whisk together either with a balloon whisk or electric hand beaters until smooth then pour into a jug.
Heat a small knob of butter and 1 tsp of oil in a large, frying pan over a medium heat. When the butter looks frothy, pour in rounds of the batter and flip until golden.

The trick to fluffy, lump free pancakes is to create a well in the dry ingredients and mix the wet into the dry in small quantities to form a dough to then mix out to a batter.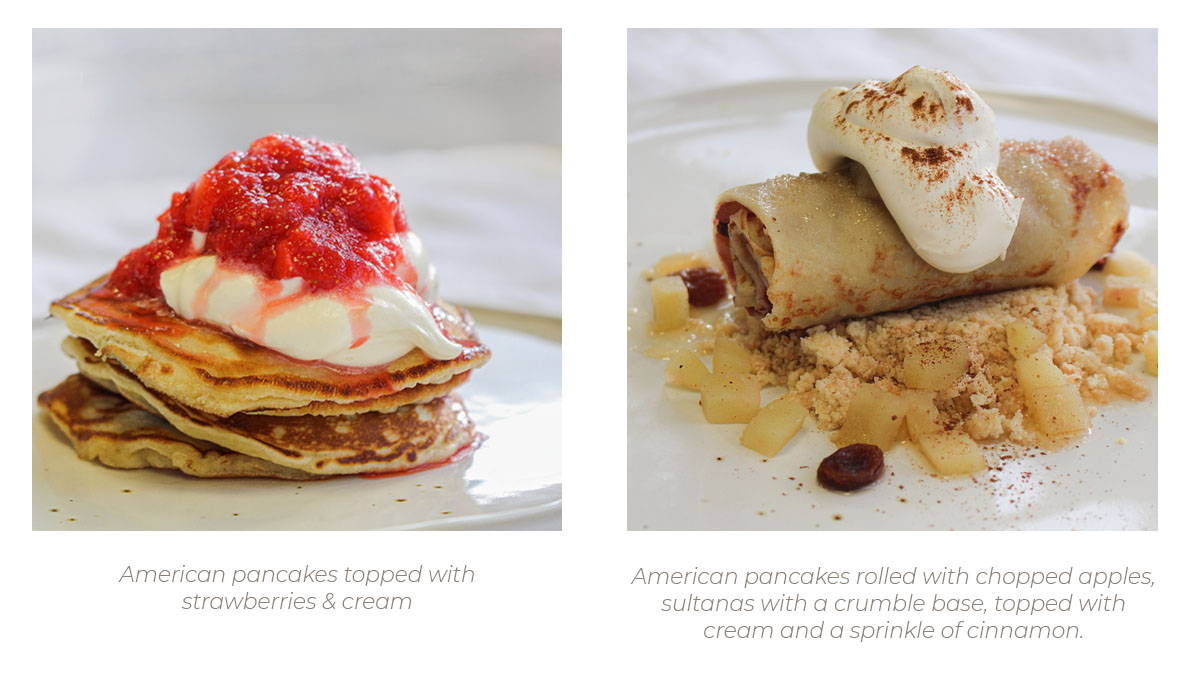 ---
Something a little Savoury
For the not so sweet toothed.
Ingredients
100g plain flour
2 eggs
300ml semi-skimmed milk
1 tbsp sunflower oil or vegetable, plus extra for frying
pinch salt
1 avocado , optional
2 large free-range eggs, optional
chilli sauce, optional
Method
Put 100g plain flour and a pinch of salt into a large mixing bowl. Make a well in the centre and crack 2 eggs into the middle.
Pour in about 50ml from the 300ml of semi-skimmed milk and 1 tbsp sunflower oil then start whisking from the centre, gradually drawing the flour into the eggs, milk and oil. Once all the flour is incorporated, beat until you have a smooth, thick paste. Keep adding all the milk until you have your batter.
Heat a large non-stick frying pan over a medium-high heat with a small splash of oil or a small knob of butter.
Add the batter to the pan, a large spoonful at a time (you may need to do this in batches), and fry for 2 minutes, or until golden, flipping halfway.
Serve topped with sliced avocado, a fried egg and chilli sauce, if you like, or a combination of your favourite toppings.
---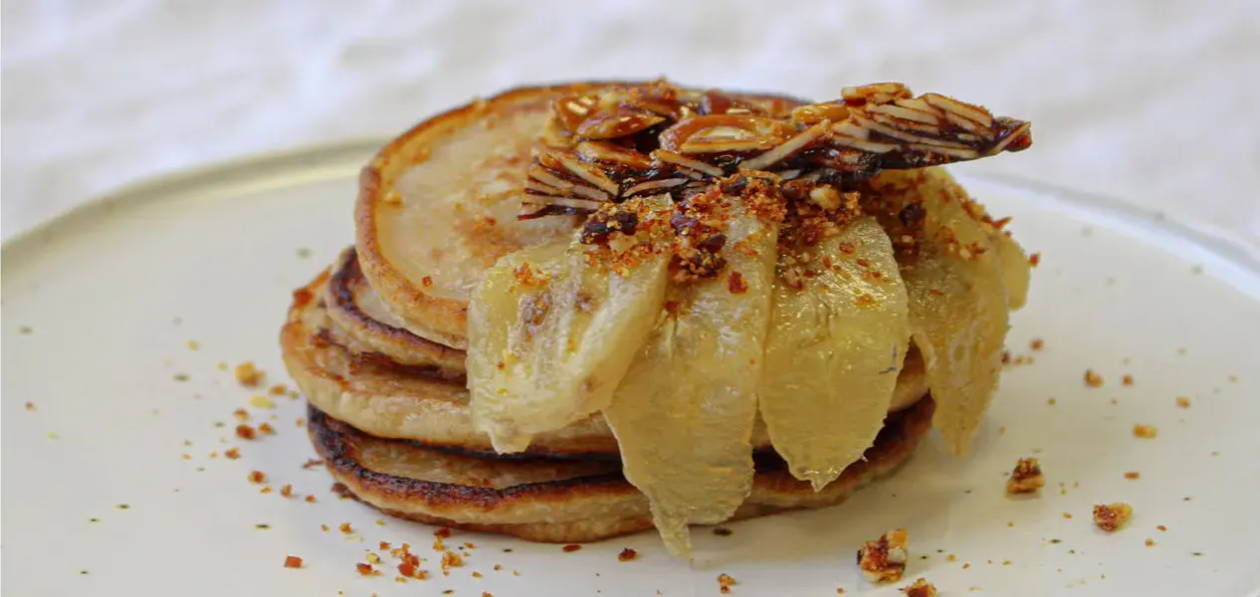 Vegan Peanut Butter & Banana Pancakes
Use Gluten free flour & baking powder to adapt to Gluten Free
Ingredients
2 bananas peeled and mashed in bowl
¼ cup peanut butter smooth
2 cups soy milk or plant based milk of your choice
1.4 cup sugar
1 teaspoon baking powder
2 tablespoon oil for cooking
Method
Mix together the banana and peanut butter until smooth. Whisk in the rest of the ingredients until you have a smooth batter.
Heat some of the oil in your frying pan and pour dollops of the mixture, not to close together, in your pan. When you see bubbles popping on the surface of your pancake, it's ready to flip!
Cook on the other side for a minute or so, or until lightly brown. Serve with whatever you may like! We have added some extra banana, sugar and almond brittle to our vegan stack.
(To make almond brittle, melt sugar in a pan, add in almonds with a little bit of vegan butter, pour onto a tray and leave to stand until solid)
---
Pair your pancakes with...