---
Coronation Berry Traybake

A delightful sponge with thick buttercream, this union jack trayback is the perfect centrepiece for King Charles' upcoming Coronation. Easy to make and a definite crowd pleaser, this delicious cake is bound to have everyone smiling, as well as giving a celebratory nod to the soon-to-be crowned King.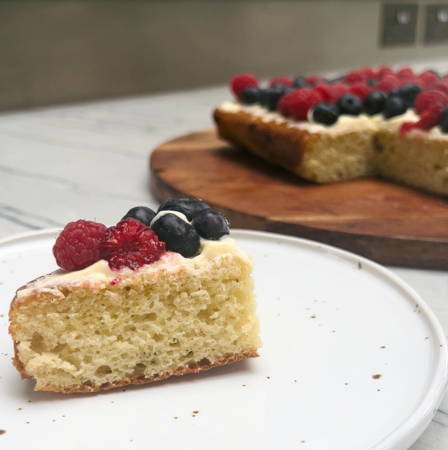 To make this Coronation centrepiece, you will need:
For the cake:
100g butter or baking spread, softened, plus extra for the tin
175g self-raising flour
50g ground almond
2 tsp baking powder
4 large eggs
225g caster sugar
125ml full-fat Greek yogurt
Zest of 2 lemons
For the icing:
175g butter
350g Icing sugar
To decorate:
300g raspberries
175g blueberries
Heat your oven to 180C/160C fan/gas 4. Butter and line a 30 x 20cm traybake tin with baking parchment. Measure all the sponge ingredients into a mixing bowl and mix together using an electric hand whisk until smooth. Spoon into the tin and level the surface.
2. Bake for 25-30 mins until lightly golden and the top of the cake springs back when pressed with your finger, and the sides of the sponge are shrinking away from the sides of the tin. Carefully lift the sponge out of the tin, then transfer to a wire rack to cool. Remove the baking parchment.
3. To make the icing, tip the butter into a bowl and whisk using an electric hand whisk until light and fluffy. Add half the icing sugar and whisk again until incorporated. Add the remaining sugar and whisk again until smooth. Spread the icing over the top of the cold cake.
4. To decorate, place a double row of raspberries across the centre and down the length of the cake to make a cross. Next, place a single row diagonally from each corner to the middle. Now fill in the empty spaces with blueberries. Cut into squares to serve.
---