Make your date-night a little more exciting with this tasty two-course dinner. Surprise your other half by creating a restaurant experience using these delicious recipes for Thai fish cakes served with a delicious slaw and a luxurious creme brûlée for dessert. You can even get the kids involved, by letting them be your waiters and waitresses for the evening!
We'd love to see what you've created! Feel free to share any pictures you may have through our social channels using
@Truly_lifestlye
A light dish, packed with flavours.
(serves 2)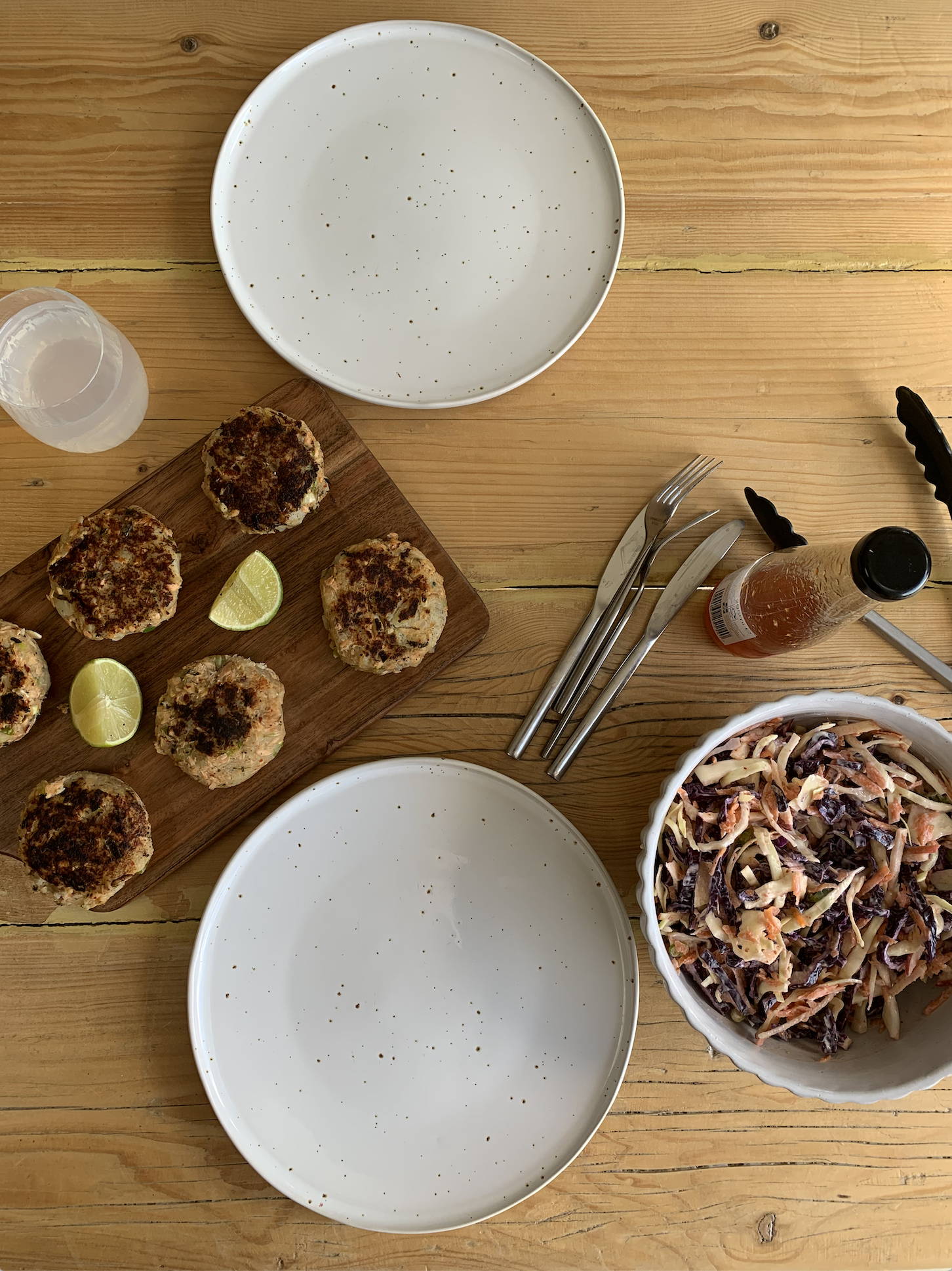 steamed salmon fillet (cooled)
2 medium potatoes, baked and flesh removed
3 sachets miso'easy traditional
1 finely chopped red chilli
1 stalk lemongrass
1 fresh kaffir lime leaf
1/2 small bunch finely chopped coriander
1 clove finely grated garlic
1 small piece finely grated ginger
1 tbsp fish sauce
1/2 tsp sesame oil
1 lime, zest, and juice
1/4 cabbage, shredded
1 large carrot, grated
1 apple, grated
1 tbsp tahini
1/2 lemon, zest, and juice
2 tbsp natural yoghurt or dairy-free alternative
2 finely chopped spring onions
In a large bowl break up the salmon and add to the potato. Drizzle in the miso and then add in the chilli, lemongrass, lime leaf, coriander, garlic, ginger, and lime zest. Fold through gently until it starts to come together.
Shape into patties and then pan fry for ⅔ minutes on either side until golden brown. Keep warm in a low oven while you make the slaw.
In a small bowl, mix together the miso, tahini, lemon zest and juice, and natural yoghurt. Toss through with the cabbage, carrots, and apple. Serve on the side of your fishcakes with a sprinkling of spring onions and a squeeze of lime zest.
Place the fishcakes on a serving dish of your choosing, alongside the slaw.
Enjoy!


3 egg yolks
1/2 cup heavy whipping cream
1/4 cup sugar, plus 2 teaspoons
1 teaspoon vanilla
A selection of berries (to serve)
In a bowl, whisk together egg yolks, cream, 1/4 cup sugar, and vanilla.
Pour into the ramekins. Place the ramekins in an 8 or 9" square glass baking dish. Make a water bath for them to cook in by pouring 2 cups of very hot water into the dish, or enough to come up about 1/2" on the sides of the ramekins.
Bake at 300° for 50-60 minutes. You will be able to tell the custard is ready when only the middle is slightly jiggly.
Cool the custards in the water bath, then cover them with plastic wrap before moving them to the fridge for at least 2 hours.
To caramelize the sugar, sprinkle 1 teaspoon of sugar over each custard. Melt the sugar with a kitchen torch until it is hard and caramelised. If you do not have a torch, place under the grill for around 4 minutes, until golden and caramelised.
Serve with your favourite berries on the side.
Freshen up your serveware...