We've been itching to get outside, have a drink with our friends and enjoy a delicious meal from our favourite restaurants and for some normality to resume. From the 12th April we will be able to visit some of our favourite spots for a drink or outdoor dining.  
We thought we'd include some of our top picks here, so if you haven't already, make sure you book in advance! Don't forget to wrap up warm as in the last few weeks we've gone from heatwave to snow in a matter of days. 
We are based in Marlow, Buckinghamshire and we are so lucky to have so many wonderful pubs and restaurants right on our doorstep. We're also a team of 6 so we can all go out for a meal following government guidelines, below are some of the places we love to go to.
Claytons, Marlow 
Clayton's has been a firm favourite for a drink and a late night boogie. Since last year's restrictions they have adapted their outdoor garden area into a wonderful place to enjoy a meal, complete with heaters and a lovely fairy light decorated seating area outside. We recommend the Prawns pil-pil from the menu!

The Butcher's Tap, Marlow
The most incredible burgers, if that's not your thing they also serve mouth- watering hot dogs and please, please do not forget the truffle fries (they are to die for) we have heard that 'Plans are in place to try and get the garden reopened for the 12th April, or ASAP after!' – My Marlow so this one is definitely one to watch!

Grape Expectations, Marlow 
Quite a new addition to Marlow and offers something a little different. Stocked with delicious wines from across the globe, the wine expert will be able to continue its sessions of selecting wines by the glass or bottle and offering sharing boards alongside this to complement the wine and making use of some outdoor seating! 
Pass us a glass of the Merlot! 

The Duke of Clarence, Marlow 
Another great spot to enjoy a cheeky cocktail and they have a lovely beer garden. It states on their website that all tables will be covered and heated. Either under a canopy, or they are offering a new heated marquee! Please note that if you will be booking this that all bookings will require a £5 deposit per person. Our recommendation for this is to indulge in one of their spectacular cocktails: A personal favourite is the Pink Ginger cocktail, it's a Grapefruit & rosemary infused Bombay Sapphire gin topped with Fever Tree ginger.

Giggling Squid, Beaconsfield 
A firm favourite of ours in the office, we got into quite a habit of ordering this at lunchtime when we were working in the office. Mostly Thai inspired cuisine and so delicious, if you haven't tried their Sticky chicken or Wok fried greens you are missing out! They also have an extensive vegan and gluten free menu, so it's the perfect place to cater for most.
There is a restaurant in Marlow, but unfortunately it doesn't offer outdoor seating, so we're recommending the Giggling Squid in Beaconsfield (20 minutes' drive from Marlow) This has a lovely outdoor seating area and we've already booked to go as a team next week!

You didn't think we'd only recommend places near us, did you? Let's not forget about some of our other favourite picks: 
Folie, London 
Located on Golden Square, where Soho meets Mayfair – dishes focus on Italian and French riviera cuisine, a beautiful outdoor seating area and their dishes are incredible, whilst you're there why not try some of their great classic cocktails?

Skylight London at Tobacco Dock 
London's largest outdoor venue is reopening on Monday 12th April for a special week-long opening celebration!
London's biggest Covid Secure outdoor bar, they are offering socially distanced table service for groups of 6, grab your best friends and head over to this magical place, you can book a hut, booth or table in advance here:

The Prince, London 
A grand old pub brought back to life around a big, beautiful garden
'Less a bar, more an entire street, transformed into an epicurean paradise featuring London's most exciting food, drink and social experiences. Day or night, rain or shine, come eat, drink and party with us in London's largest pub garden, complete with retractable roof!' – The Prince,  
We love this place and can't recommend the waffles enough! Pass us a 'WAFFLING CHICKEN' ASAP, a Mozzarella & Thyme stuffed Waffle, topped with our inhouse-recipe fried chicken, pickles, spring onion, garlic aioli & chilli honey, DELICIOUS.

The Ivy, Manchester 
We love The Ivy, and this one in Manchester is so gorgeous Guests can enjoy food and cocktails amongst an abundance of florals, foliage and colourful fabrics, all creating an enchanting and weather proof garden oasis in the heart of Manchester. Don't forget to book, oh and don't forget to order the ZUCCHINI FRITTI!

Bambalan, Bristol 
Boasting the best roof terrace in town with unrivalled views across Bristol.  
their menu brings you vibrant Mediterranean inspired small plates as well as their new woodfired, sourdough pizza menu in collaboration with Bristol's famous Flour & Ash

For those that would rather wait to go out, It's ok if you're feeling a little overwhelmed.  
If you would rather create a drinking experience with a takeaway at home, invite 6 friends and have a drink and some food in the garden. We've included a great Margarita recipe for you to enjoy your home-made pub garden experience.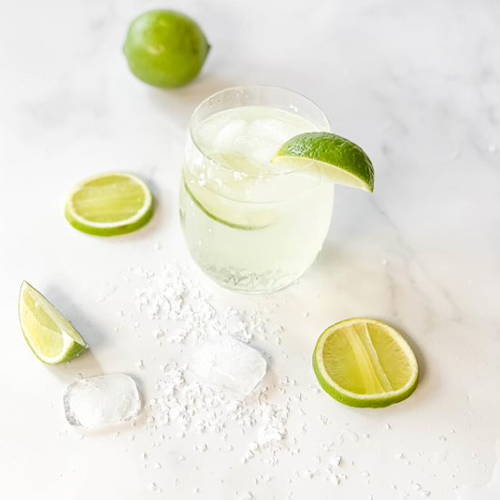 Ingredients 
Ice
50ml tequila
25ml lime juice
20ml triple sec  
For the garnish: 
salt
2 lime wedges
Method 
STEP 1
Sprinkle a few teaspoons of salt over the surface of a small plate or saucer. Rub one wedge of lime along the rim of a tumbler and then dip it into the salt so that the entire rim is covered.   
STEP 2
Fill a cocktail shaker with ice, then add the tequila, lime juice and triple sec. Shake until the outside of the shaker feels cold.
STEP 3 Strain the mix into the prepared glass over fresh ice. Serve with a wedge of lime.
Recipe inspired by: https://www.bbcgoodfood.com 
If you have any more places to add to the list, let us know through our social channels:
@Truly_lifestyle
Get ready to go out in style...