Mini-egg rice krispie cakes
Spring is here and that means Easter is just around the corner, and this time we have the chance to see our family and a few friends (fingers crossed). Here at Truly we love baking and anything that involves food, so we thought we'd share the recipe for these tasty Easter themed rice-krispie cakes by Jane's patisserie. They are so tasty and a great baking activity to do with the kids over the Easter holidays.
If you get a chance to give this recipe a go, make sure to share any pictures with us through our social channels, we may feature you on our Instagram!
@Truly_lifestyle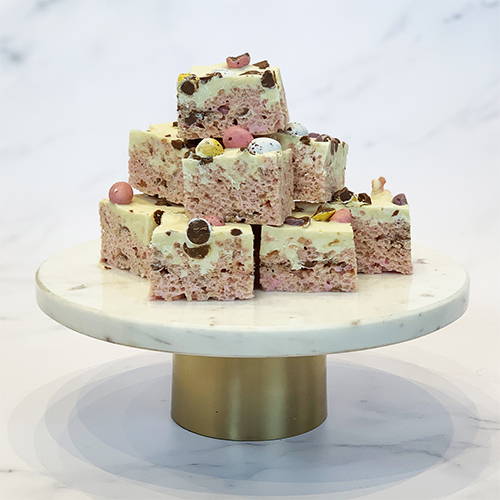 For the base
50 g Unsalted Butter
275 g Mini Marshmallows (I used white)
150 g Rice Krispies
200 g Mini Eggs (whole/crushed)
For the topping
300 g White Chocolate
100-200 g Mini Eggs (whole/crushed)
1) Grab a 9x9" square tin and line it with grease-proof paper, pop it to one side.


2) Next, take a large pan and add the butter and mini marshmallows. Heat these on a low to medium heat and constantly stir until it's smooth and melted through. Once melted, take off the heat.


3) Take your rice krispies and pour them into the pan and stir through until combined.


4) Grab your mini eggs and mix them into the mixture. As the mixture will still be warm, be quick so the mini eggs don't melt too much.


5) Now press this mixture into the bottom of the tin you lined with grease-proof paper. (try buttering your hands a little to make it easier to press down).


6) Take your white chocolate and melt the white chocolate in a bowl until smooth. Try doing this in 15 second batches then mix, to prevent burning.


7) The fun bit! Pour the melted chocolate over your base and sprinkle your other mini eggs on top.
8) Place your tin in the fridge to set for a few hours. Then slice into squares and enjoy!