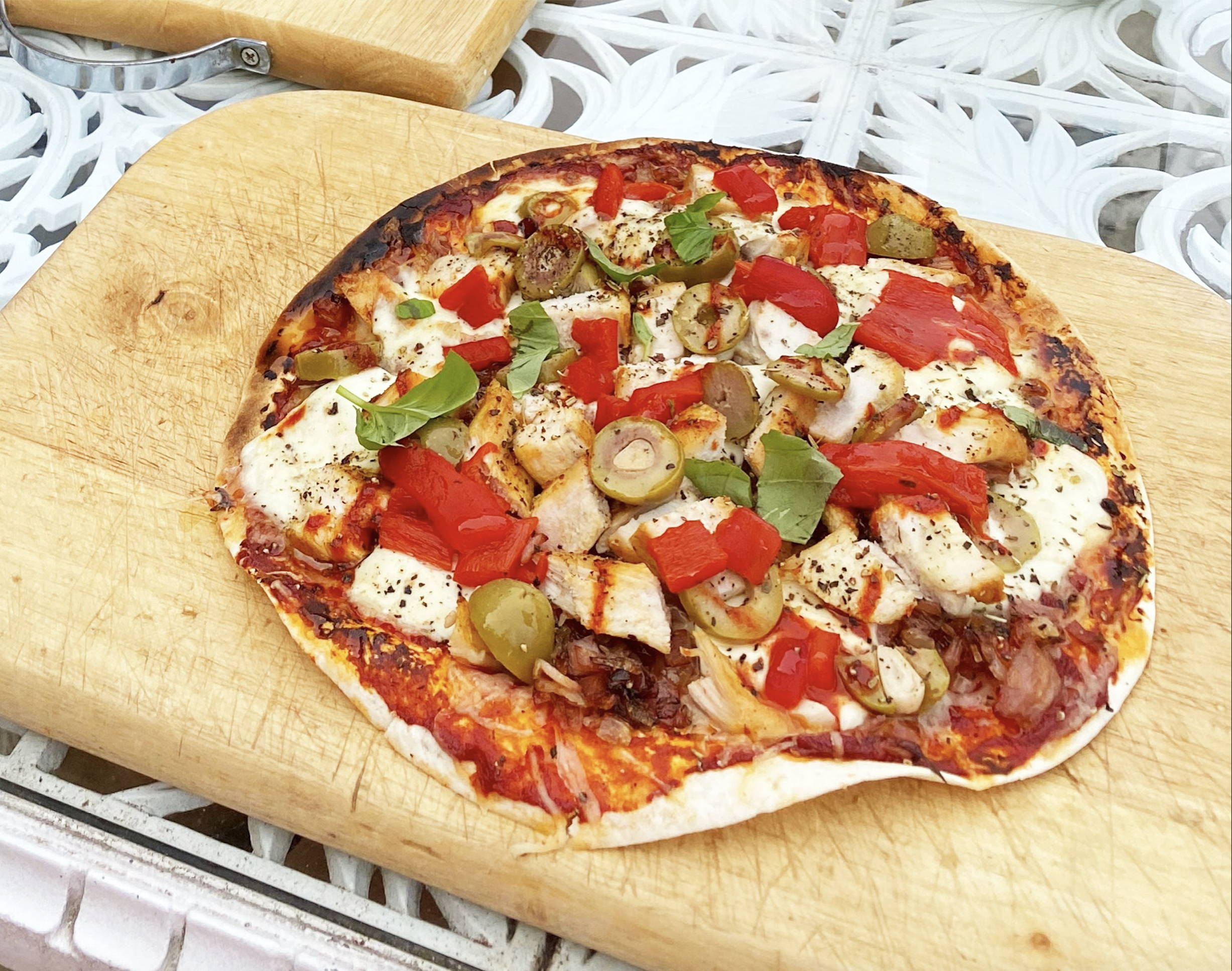 Need a quick dinner idea during the week? If you like thin, crispy pizza bases then you're bound to love this healthy alternative to a shop-bought pizza. Try laying out a topping bar and let the kids get creative with their very own pizza. So tasty, super light and you don't feel nearly as guilty eating one.

As you can see, I loved adding all sorts of toppings to pack it with flavour. If you like a little kick then follow this delicious recipe I threw together. You can always change the ingredients to suit your taste.
–
Mags, Social Media Manager
MAKES 2 PIZZAS
2 tortilla wraps (you can use wholemeal for a healthier alternative)
2 chicken breasts
Tomato puree
Garlic puree
Cheddar and mozzarella cheese
2 shallots
Ham
Garlic stuffed olives
A handful of rocket (optional)
A handful of basil (optional)
Mixed herbs
Sriracha sauce
Paprika
Salt and pepper
Olive oil
1) Firstly, prepare your chicken breasts by seasoning well with paprika, salt, and pepper. Roast in the oven at 210 degrees for around 20 minutes until golden brown. Check the chicken is thoroughly cooked by making sure the juices run clear.
2) Whilst your chicken is roasting, chop up your shallots, ham and fry in a little olive oil with mixed herbs until crispy.
3) Once your chicken is cooked, remove from the oven and chop into pieces.
4) Grab your tortilla wraps and with the back of a spoon or spatula, spread a generous amount of tomato puree around the wrap. Mix in a little garlic puree and some sriracha sauce for extra flavour.
5) Sprinkle your cheddar cheese on top, and add slices of mozzarella. Add the roasted chicken, fried ham and shallots, stuffed olives, and any other toppings you may like onto your tortilla wrap.
6) We also drizzled some of the juices from the roasting pan over the pizza for added flavour.
7) Place under a high grill until the edges start to go crispy.
8) Remove and add a handful or rocket and basil leaves (optional).
Feel free to share any pictures with us through our social channels!
@Truly_lifestyle