Easter is one of my favourite times of year, it means Spring has arrived and the days are getting longer. I grew up in a household full of Polish culture and one of the reasons why I love this time of the year so much is because we have a tradition where kids decorate eggs for Easter. You decorate a basket full of goodies called 'Święconka' meaning " the blessing of the Easter baskets" It's one of the most long standing and beloved Polish traditions.
Basket full of goodies...
On Holy Saturday during Easter, you take your basket full of goodies to the church, where your basket is blessed by a priest. On Easter Sunday, we then share the blessed egg, (symbol of life), and all the other bits included in the basket with family or friends. Traditionally, there are certain items you should include in your basket and each 'ingredient' represents something different.  
Typically, people include eggs, salt, a piece of meat (usually something resembling a salami stick) butter, cheese, bread, a candle and many other things, a lot of these have religious connotations for me as we celebrate the Catholic faith, more recently some people also add chocolate and other decorative items to the basket to make it come to life. Having exchanged well wishes with everyone at the table, we then continue to enjoy a hearty meal, any tradition that includes food has always been my favourite!
An idea to try at home...
The thing I remember being the most fun and the most important as a kid was decorating the eggs, you'd usually boil them and dye them, paint them or marble them, you could even buy stickers and decorate that way, or get your favourite paints or crayons. You don't have to participate in the Polish traditions of an Easter basket to decorate eggs and create a family filled activity with the kids.
Here's a little guide on how we decorated eggs for our Easter table:

1) Grab a bowl of water, and use different colour nail polishes,
2) Swirl them around in the water to create a lovely pattern.
3) Pop the egg gently in the water for it to grab the design, fish it out and set it aside to dry white eggs would work best for this but any egg is fine.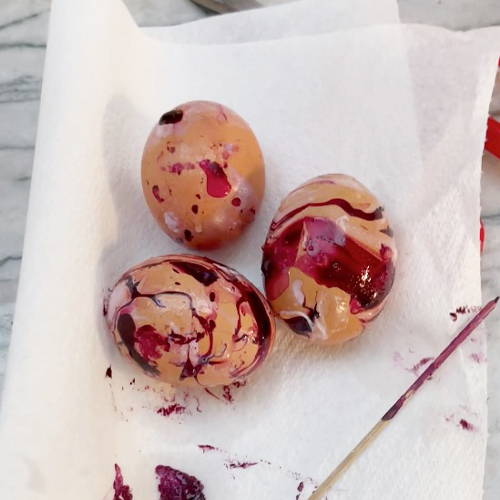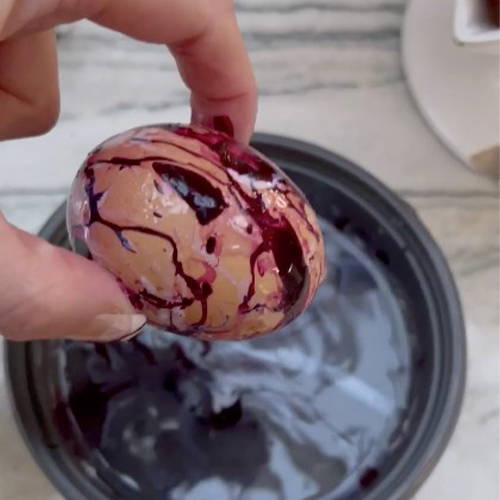 Virtual Easter egg hunt...


If you want to celebrate Easter with a loved one, but they live too far, why not take part in Cadbury's worldwide Easter egg hunt. You have the opportunity to choose and buy an egg for someone and hide it on a map, alongside a clue that's personal to you both. Once they have found it on the map, they will be sent an Easter egg straight to their door. For every Easter egg that is bought, they will donate one to a food bank on your behalf, to help them celebrate Easter this year.

Easter table inspiration...

If you need some help or inspiration in creating a gorgeous table setting to make your Easter table POP using things you may already have at the house. Here is a link to our YouTube channel, explore how we're going to style ours...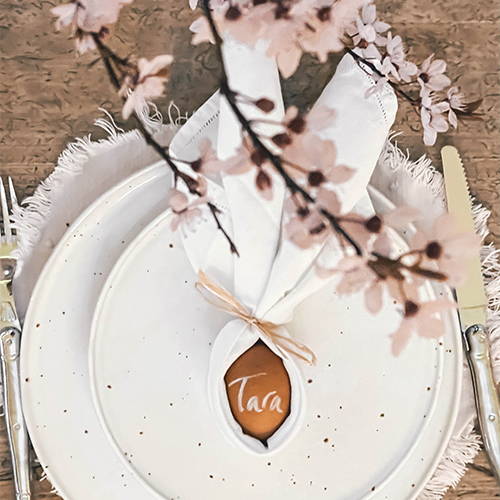 As if we would ever forget to include some of the delicious food that we eat over the festive period, there are so many incredible Easter recipes and a Babka in my household is the thing that I most look forward to.
Here's the recipe for a Chocolate and Hazelnut babka, I remember loving this as a kid!
Ingredients
330g strong white bread flour, plus extra for dusting

7g sachet easy bake yeast

½ tsp of fine salt

100g dark brown sugar

90ml whole milk

2 eggs beaten

100g unsalted butter ( softened and cubed)

Vegetable oil for greasing
Chocolate nut spread:
You can make your own but I always cheat with a bit of Nutella or you can choose your own pre-made chocolate spread

150g blanched Hazelnuts

Add 1tsp ground cinnamon.

How-to
1) Mix the flour, yeast, salt and 50g of sugar in a large bowl, then make a well in the centre. Heat the milk until lukewarm. Pour into the well, followed by the eggs; mix into a smooth, stiff dough. Dust the worktop with flour and tip the dough onto it. Knead in the butter a few cubes at a time.
2) Put the dough in a clean bowl and cover with a damp tea towel. Boil a kettle. Half fill a roasting tin with just boiled water; sit it in the base of the oven. Put the bowl of dough on the shelf above and close the door to create a steamy environment (Should take 1-2 hours to double in size)
3) Toast the Hazelnuts in a dry frying pan for roughly 2 mins and grease a 900g loaf tin with a little oil
4) Dust the work surface with flour. Knock back the dough, then tip onto the work surface and roll out to a 40x30cm rectangle. Use a palette knife or spatula to spread the chocolate spread over the dough then scatter with nuts. Roll up tightly like a Swiss roll, starting from one of the shorter sides
5) Tuck the ends under; lower into the greased tin. Cover with a clean damp tea towel. Leave to rise in a warm place for 45 mins- 1 h until doubled in size. Preheat oven to 180 degrees Celsius, gas mark 4
6) Bake for 45-50 mins, until base sounds hollow when tapped. Turn onto a rack. Use the leftover 50g of sugar and heat it up in a pan with 3 tbsp of water, boil until syrupy, brush over the top of the Babka leave for 15 mins and repeat with the leftover syrup – cool completely before serving.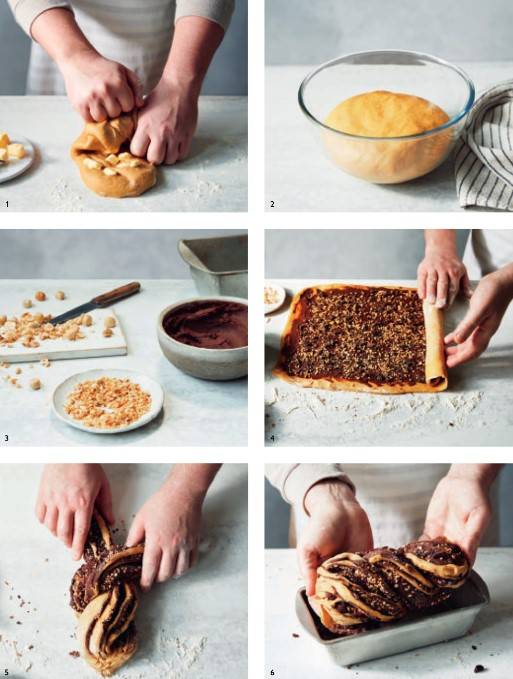 Recipe and imagery inspired by 'Waitrose Magazines'

This is how Mags, our social media manager will be spending her Easter Sunday. Feel free to share your traditions and table layouts with us, and don't forget to tag us using:
@Truly_lifestyle