If you taking part in Veganuary this month and need some more tasty inspiration, this one is for you. These dishes are perfect as a light lunch or as a side to your main meal, packed with flavour and all served up on our brand new Marlow dinnerware range.
Feel free to tag us in any pictures you may have through our social channels:
@Truly_lifestyle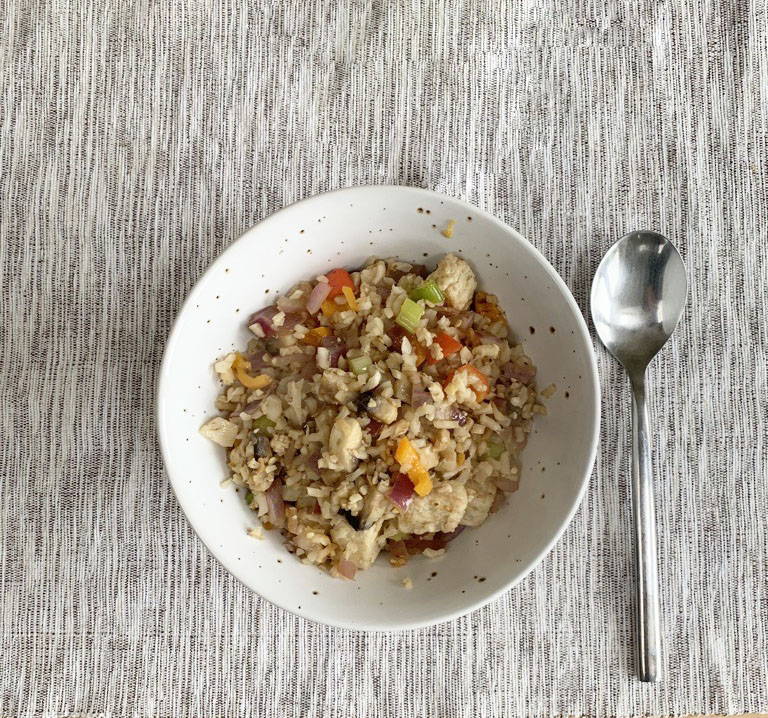 Serves 4
Ingredients
2 tsp sesame oil
2 tsp ginger paste
1 clove of garlic
3 large mushrooms
½ red pepper
½ orange pepper
1 onion
3 spring onions
1 cauliflower (blended) or 2 cauliflower rice packets
Optional – 200g Quorn pieces
Method
In a wok warm sesame oil, ginger and garlic.

Chop peppers and onion into small chunks and add to the wok.

Once peppers are slightly soft chop the mushrooms and add to the wok

Stir for 5 mins or until soft.

Optional – add in Quorn pieces if serving as a main dish

Mix in blended cauliflower or the cauliflower rice packets and stir.

Chop the spring onions and add to the wok

Stir all ingredients and finish with soy sauce.

Serve up & enjoy!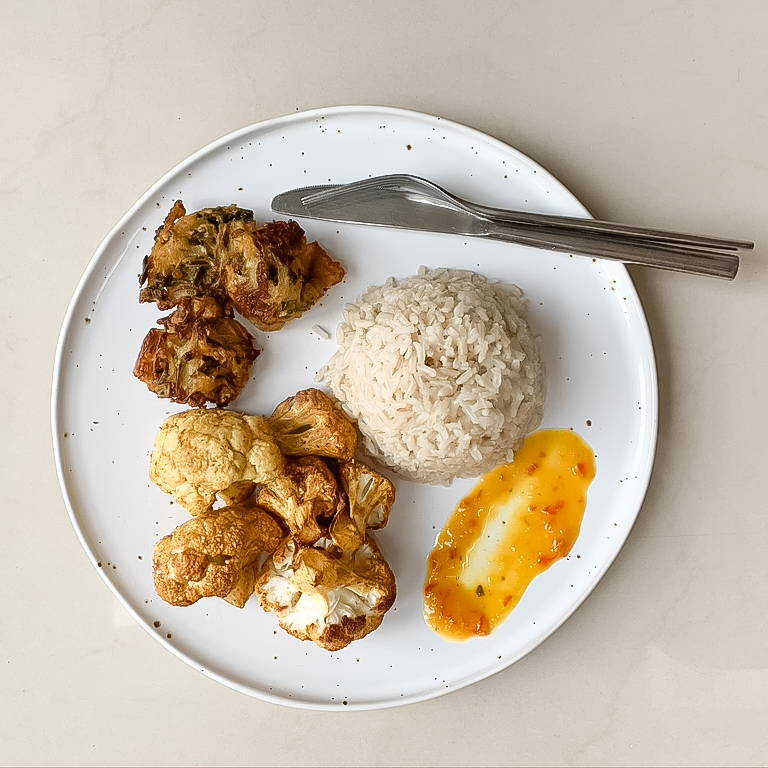 Serves 4
Ingredients
250g unsweetened soya yoghurt
1 tbsp medium curry paste
1/2 tsp ground turmeric
1/2 tsp chilli powder (optional
1 head of cauliflower, broken into florets
Juice of 1/4 unwaxed lemon
1 red chilli, de-seeded and sliced (optional)
small handful of coriander
Pinch of sea salt
MANGO DRESSING (OPTIONAL)
1 Mango
The juice of 1 lime
Water
Salt
Cayenne pepper
Method
Pop the oven on to 200 degrees.

Take a large bowl and whisk together your soya yoghurt, curry paste, turmeric and chilli powder (if using) until fully combined,

Grab your cauliflower florets and dip each one into the yoghurt mix, making sure they are fully coated.

Place these onto a baking tray, and place in the oven for around 25-30 minutes until they have softened and look slightly charred.

Remove the tray from the oven, and drizzle your lemon juice over the florets.

Finish with a pinch of sea salt.

If you are having a go at the mango dressing. Peel and slice the mango, and add all of the dressing ingredients into a food processor. Blend until it has a smooth consistency.

Serve with your choice of rice or salad. We added vegan onion bhajis to ours!

Serve up & enjoy!
Serves 4
Ingredients
1 block of Tofu
3 minced garlic cloves
3 tbsp of soy sauce
3 tbsp of apple cider vinegar
2 tbsp ketjap manis or maple syrup
Half sliced onion
Salt and pepper
sliced green peppers, broccoli ends (optional)
Chilli flakes
Coriander
65g of cornflour
Method
Take your tofu and wrap it in a tea cloth and place something heavy on top. This removes any excess water from the Tofu.

Then, slice this length ways and into triangle pieces.

Grab a bowl, add the cornflour with a pinch of salt and pepper.

Coat the tofu in cornflour and lightly fry on both sides until it turns a golden brown colour.

Take a hot wok, drizzle a little oil and fry the ends of the broccoli stems. Next, add your sliced onion into the wok and fry for around 1 minute.

Add your garlic and ginger and mix until fully combined. Grab the rest of your vegetables, and them into your pan too.

Next, season with chilli flakes, salt and pepper and add your sauces.

Take your bowl with the remaining cornflour and some water to make a paste. Add this into the mixture until it becomes a thick sauce.

Add your tofu and make sure it is coated well with the sauce.

Finish with a sprinkle of coriander and chilli

Serve up with some rice and your fried broccoli stems & enjoy!
Brocolli and cauliflower bites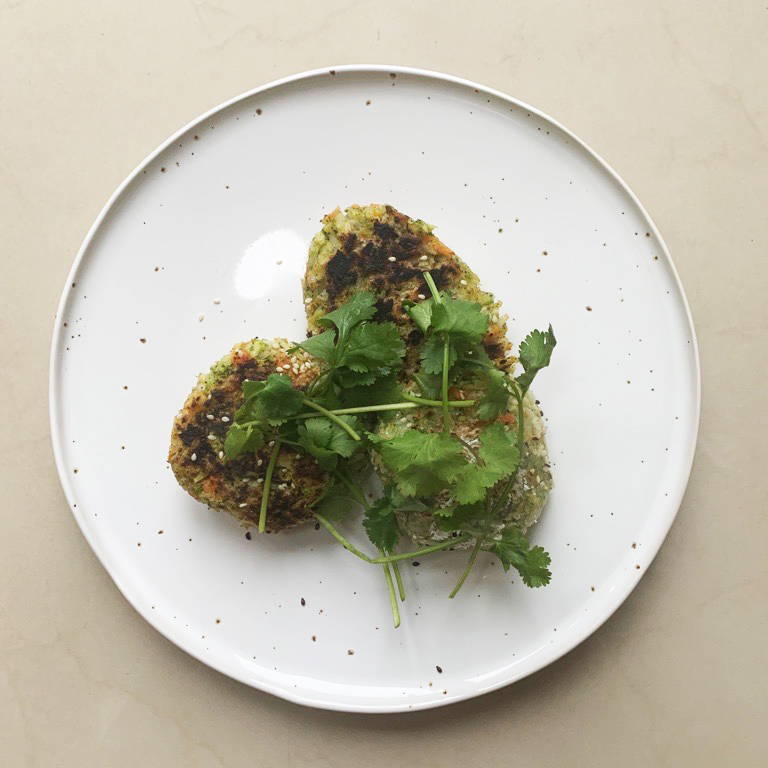 Serves 4
Ingredients
1 medium broccoli
1/4 cauliflower
1 large carrot
1 small sweet potato, baked at 230 degrees ( around 45 minutes)
200g cooked brown rice
135g brown rice flour, plus extra for coating.
2 tsp salt
A handful of chopped coriander
Oil
Sweet chilli sauce
Method
Start by bringing your carrots, broccoli and cauliflower to a boil until they are fully cooked.

Next, drain and mash these veggies together.

Mash your sweet potato and place into a big bowl. Add your veggies, brown rice, salt, flour and mix until fully combined.

You should be able to form a patty with this mixture, but if it's too wet just add some extra rice flour.

Form small patties and place in the fridge for around 15 minutes.

Rub a little more flour onto both sides of your patties.

Heat 2 tbsp of oil in a pan and cook your patties until golden brown on both sides.

Serve with some Thai sweet chilli sauce and top with some coriander.

Enjoy!