Homemade Chocolate Hobnob Recipe
Voted the ultimate dunking biscuit by scientists, the hobnob possesses all the structural integrity to withstand a cup of tea and is also packed with that classic oaty-delicious flavour. Whilst the originals certainly never miss, this homemade hobnob recipe takes things a step further with a delicious syrupy flavour and a thick decadent chocolate coating.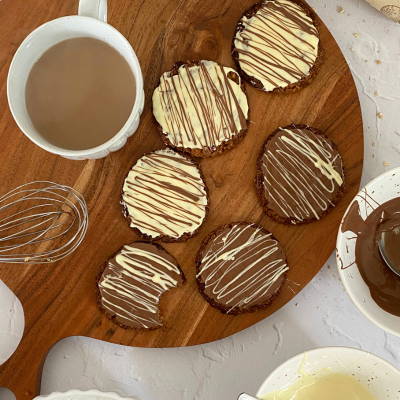 To make these delightful biscuits, you will need the following:
125g unsalted butter (softened to room temp)
80g brown sugar
2 tablespoons golden syrup
100g porridge oats
100g wholemeal flour
½ teaspoon baking soda
½ teaspoon baking powder
½ - 1 teaspoon sea salt
100g milk chocolate
100g white chocolate
1.   Preheat the oven to 180 degrees and line a few baking trays with parchment paper.
2.   With a hand or stand mixer cream the butter and the brown sugar until pale, fluffy, and smooth.
3.   Add the golden syrup and beat until incorporated.
4.   On a low speed, mix in the oats, flour, baking soda, baking powder and salt.
5.   Once the dry and wet ingredients are evenly combined bring the dough together into a ball, wrap with cling wrap and refrigerate for 15-20 minutes.
6.   Roll the dough into small balls about the size of a tablespoon and flatten on the tray until they are about 2 inches in diameter. Be sure to leave a bit of room between the biscuits to account for spreading. This recipe makes roughly 12 biscuits.
7.   Bake for 10-12 minutes, until golden brown, then allow to cool on the trays.
8.   Melt the milk and white chocolate separately in heatproof bowls set over a pot of simmering water or in the microwave.
9.   Spoon a teaspoon of chocolate onto the top of each cookie and spread out evenly using the back of a spoon, alternating between milk and white chocolate.
10. Using the end of a spoon drizzle the opposite chocolate over the top of the biscuits, moving back and forth to create a zig-zag effect.
11. Allow to set in the fridge before enjoying/dunking into tea.
---